TGIF! I am so thrilled that it is almost the weekend! For some reason, this week seemed to drag on. It is probably because I am anxiously awaiting my big trip next week! Although, I am not fully prepared, so the time cannot go by too fast.
Today's post is all about budget-friendly beauty buys. I like luxury brands as much as the next gal, but often times I cannot squeeze them
all
in my budget. While there are some beauty products that are worth the splurge, there are also many drugstore options that work just as well. For instance, I have learned over time to not splurge on mascara. It dries out fast and is not worth the extra money. I have also found that most do not work as advertised and still clump, flake, etc. I have tried many brands at many different price ranges, and I always end up back with the classic Maybelline Great Lash. It was the first mascara I ever used back in high school, so there's some nostalgia there, but it is cheap and
it works
.
Here are a few of my other favorite budget-friendly beauty buys THAT WORK:
I'm not even kidding you - that Suave dry shampoo beats out anything more expensive, and the E.L.F. blush/bronzer duo (color St. Lucia) is a dead ringer to the
NARS favorites
that cost much more. Trust me, I was skeptical, because they do look different sitting side by side. However, when worn, they look exactly the same. And at only $3, you really can't get more budget-friendly than that! (Target also sells the blush on its own - look for the "Twinkle Pink" color - I tend to just go for the blush)
I am also SUPER excited to report that I was selected by Amy at
Coffee Beans and Bobby Pins
to be a part of her Friday's Five this week! Amy has started a
Friday's Five Link Up
on her blog where each Friday bloggers can submit their favorite post from the week, and then she will select five of the posts she particularly enjoyed to feature on her blog the following week. The link up is a great way to build relationships with other bloggers, find new blogs to read and just support one another! This was my first link-up, and I am thrilled to be a part of it! I am looking forward to connecting with other bloggers and making new friends! Make sure you check out Coffee Beans and Bobby Pins! Amy has great style, and her blog is a lot of fun to read!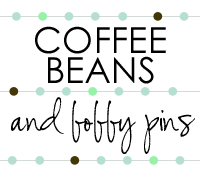 Which beauty items do you splurge on and which do you save on?
Do you have any budget-friendly beauty buys that you swear by?
HAVE A GREAT WEEKEND!